This guide was developed with support from a Small Business Challenge grant from the City of Cambridge Community Development Department.
We thank them for their support of local businesses!

Cambridge Local First wants to help you shop local this holiday season. Check out a variety of gifts, experiences, and edible delights from our favorite locally-owned businesses. Or, select a specific category in the menu above!
To make a purchase, just click the "Shop Now" button below each listing. You'll be sent right to the business website to complete your purchase.

We recommend you make an in-person visit or opt for in-store pick-up depending on the last fulfillment date for some items.
Images and product descriptions included in this guide have been sourced from the local businesses' original website, unless otherwise specified.

What do you want to see in next year's guide? Let us know through this form (by December 31) and enter the Shop Local Holiday Giveaway! You'll be entered to win a variety of curated baskets based on this year's gift guide themes. Bonus points if you send us proof you've shopped at one of the businesses featured in this guide!
Find me at Albertine Press. 
This gift box is also available in warm color palette also available! Want to customize further? Albertine can help you with custom gifts!
Find me and maps from all over the world at WardMaps. You can pick up unframed prints and maps within just a few days of ordering online!

WardMaps is an intimate shop specializing in 19th-20th century antique maps.
Find me at EH Chocolatier.

We'd like to think our Holiday Bonbon Collection brightens up the whole month of December! Our bonbon flavor selection reflects the season, and we carefully pair them with their festive toppings.
Our flagship trio is a selection of the three sauces (hot, jalepeno, and ghost pepper) we launched our company with back in 2019. These are the BHS OGs that started it all!
Barry's Hot Sauce is a Cambridge-based, immigrant-owned and family-run company that specializes in producing small batch, all-natural and flavor-forward hot sauces using locally sourced ingredients.
Find me at Formaggio Kitchen.
Welcome to Mocha Connection! We are on a mission to connect YOU, coffee lovers and enthusiasts with the exceptional flavors from Yemen – a country known for its rich coffee history. We hope you will consider playing a part in our story and help revive Yemen's coffee heritage.
Check out our special offers for sampler packs, value packs and free shipping at our website.
Find me and other events at Commonwealth Wine School.
There is no better way to ring in a New Year than with bubbles in your glass!
Join us for a night of celebrating bubbles and learn about not only Champagne but its French cousin Cremant, Prosecco, Franciacorta, Cava, and other sparkling wines from around the globe.
Whether you're shopping for a holiday party, the perfect gift for a picky liquor lover, or an ale with a name that makes you chuckle, Cambridge Spirits has got it.
See what the staff at Cambridge Spirits have to say about Troegs Mad Elf: With its nuanced blend of sweet and tart cherries, Pennsylvania honey, chocolate malt and a hint of mischief. The essence of this legendary holiday ale, along with its ruby red glow, is born from five varieties of tree-ripened cherries.
Find me at gather here.
gather here offers classes and events related to sewing, knitting, embroidery, crochet,  crafts kids' classes, and more!
Part sewing studio, part fabric and yarn shop, gather here is Cambridge's only stitch lounge, created to cater to your fiber craft goals (via gather here).
Find me at EH Chocolatier.
View upcoming classes on our site or contact us to schedule a private chocolate class for your event or group.
Find me on the calendar here.
Looking to dazzle holiday guests with local confections? You can even explore custom isomalt orders, custom chocolate orders, and more!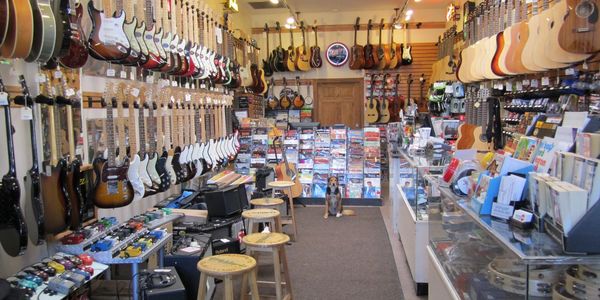 Find me at Guitar Stop.

Shop instruments, lessons, and more at this family-owned store.
FOR BOOKWORMS (& THOSE WHO OFTEN BUY BUT RARELY READ)
EGAD! You're behind on Christmas shopping and it looks like you're stuck doing last-minute online shopping or – gasp – giving gift cards this year. But all hope is not lost. You can redeem yourself if the gift card is an extra special one. So gift someone the opportunity to explore some of Cambridge's locally-owned, independent bookstores! In the case of our last selection, you're going to have to stop by in person and pick up a real book. #sorrynotsorry
Gift cards starting at $5.00
This one is extra special to us. Frank Kramer, one of Cambridge Local First's founding members, entered the business in 1962 (30 years after the store was first founded). Also, we think it's great that they own the domain harvard.com.
Get this month's staff picks for children and adults at 20% off!
Not sure what to buy? Our expert staff is here to help, even if you can't come to the store in person! Send a request to the Virtual Bookseller, or let us do the shopping for you with one of our Book Bundles!
If you're like us, you're a huge fan of the Montague Bookmill, John Petrovato's first bookshop. In 2005, Petrovato opened up Raven Used Books in Harvard Square (relocated to 23 Church Street in 2015).
Their story – worth exploring – is one of tenacity and grit. Read about it below, then stop by in person!
Find me at Teddy's Shoes.
We are a family-owned shoe store that specializes in boots, dance supplies, family footwear, hats, high heels, large sizes, and wide widths. Come explore our superb selection!

Find me at The Andover Shop.
Make it a pair! This goes perfectly with the Pear Plaid Viyella Sport Shirt ($175), pictured below:
GIFTS THAT KEEP ON GIVING
We think this is an excellent gift for travelers and parents who may feel stressed and anxious about travel.
Loaded with resources, strategies, tools, and techniques, Study Abroad Safety: A Parent's Guide to Sending Your Child Abroad can help students, parents, and teachers start essential conversations about personal safety.
Learn more about the author here.
Take a moment to reflect on the true spirit of the season and donate to this woman-owned business – or get creative this year and donate on a friend's behalf to a local non-profit (you know, the one who isn't big on consumerism and has the biggest heart in the world).
Second Chances delivers free, empowering clothing to individuals who are low-income or experiencing homelessness in Cambridge and Somerville.
Do you know a creative in need of space for solo/private instruction, looking to display or sell their work, or independent educators who seek an open space to host video or small in-person classes?
270A Concord Avenue (honeyjones) is a multi-use studio and art gallery with fifteen foot high ceilings, walk through access, mounted ballet barre, newly lain pine floors, one restroom, collapsible tables and chairs for applicable uses. 
Details: Porcelain tumbler. Midnight blue glaze with a wax resist painting. Dimensions: 5″ H x 3.5″ W x 3.5″ D
Order by December 17, 2021 to receive products by Christmas. Find me and more handmade gifts at Mudflat Gallery.
Details: Porcelain tumbler. Midnight blue glaze with a wax resist painting. Dimensions: 5″ H x 3.5″ W x 3.5″ D
MOTTO offers an unusual collection of artisan made goods and have been a destination in Harvard Square since 1988.
Find more gifts like me at MOTTO.
Find me at Cambridge Artist's Cooperative / made by Ann Schunior.
Details: Clay / Height: 4.5″; diameter: 5"
Perfect for small birds like finches, wrens and sparrows. This bird feeder hangs by a nylon cord that won't rot.
Find me at Cambridge Artist's Cooperative / made by Ariel Kessler.
Details: Giclee print of a mixed media collage / 10" width x 8" height / Unframed.
Find more gifts like me at MOTTO.
MOTTO offers an unusual collection of artisan made goods and have been a destination in Harvard Square since 1988.
FOR NEW PARENTS AND THE NEWLY EXPECTING
Aniya Love was established in 2021 by Jasmine Miller, a mother of 2 who worked in child care for over 9 years, inspired by the love of nurturing and helping children. Jasmine's online store features carefully curated items that best fit your child.
Looking to support a local child care business or give something extra meaningful to your loved one raising a child?
Check out Little Star of Ours' merchandise or explore whether this could be the place for a tiny human in your life!
The flexible Postpartum Doula package is $30 hourly for a minimum of 4 hours day support and 8 hours night support. Both you and your baby deserve attention and a sense of
Give yourself permission to rest and heal without any guilt. You matter and you deserve to rest and rejuvenate!